Founded in 1964, Unitron is headquartered in the Waterloo region of Ontario, also known as "Canada's Silicon Valley." Linked with the Sonova Group, a global provider of hearing instruments, Unitron manufactures hearing aids utilizing years of research and collaboration. Unitron supports community efforts such as the Global Foundation for Children with Hearing Loss and Hear the World Foundation. Committed to making life better for people who experience hearing loss, Unitron offers a line of advanced hearing aids.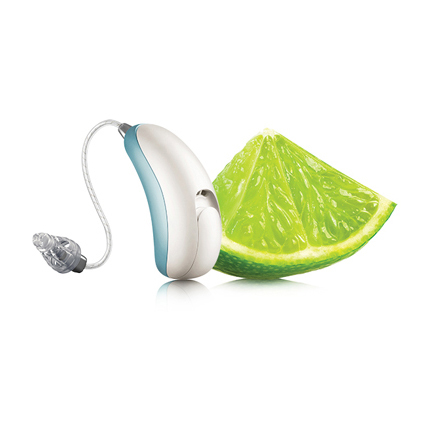 The North Platform
Unitron hearing aids are powered by the North Platform, which processes environmental sounds with integrated algorithms to shape sound quality unique to Unitron. North's 101 decibel dynamic range allows wearers to experience real-world sound without distortion. Meanwhile, dual-core processing performs tasks quickly, delivering the latest sound technology advancements for Unitron wearers. The clean handling of sound enhances speech and retains sound fidelity amidst background noise, while the seamless integration of the North Platform provides wearers a natural listening experience.
With the understanding that hearing loss greatly affects our ability to communicate and receive sounds with clarity, the North Platform offers SoundNav, an automatic program that features seven precise settings. Four of these are focused specifically on conversation: conversation in quiet, small group settings, in a crowd, and in noise. While other traditional hearing aids do not focus as much on music listening, North provides a specific feature to enhance the intricacies of music sound. SoundNav also provides comfort for Unitron hearing aid wearers in both noise and quiet, with their Comfort with Awareness feature.
Unitron Moxi
Moxi is Unitron's receiver-in-canal family of hearing aids, powered by the North Platform. Their latest model is the Moxi Now, the smallest wireless RIC hearing aid on the market (the size of 2 blueberries stacked on top of each other!). The Moxi Now provides intuitive functionality and all day comfort, as well as all of the features of SoundNav and the North Platform. Other Moxi models include the Fit and Kiss – design award-winning models for style and functionality, and the Moxi Dura.
Stride
Stride hearing aids were designed based on patient feedback, and provides satisfaction for every patient need.  Advanced technology enhances conversations. Powered by the North Platform, Stride hearing aids combine SpeechZone 2 (for enhanced speech recognition), SoundNav (automatic features), and Sound Conductor (to provide natural sound) for a comfortable and effective listening experience. Stride hearing aids are available behind-the-ear and in-the-ear styles.
Max
Max hearing aids are a Super Power behind-the-ear device, designed to treat severe to profound hearing loss. Max provides enhanced speech intelligibility, natural listening, and a long battery life, and is available in three technology levels (Max 20, Max 6, and Max E). Max offers signature Unitron features found with the North Platform, as well as SmartFocus, SelfLearning, and AntiShock, to provide a comfortable experience for those who experience higher levels of hearing loss.
Unitron TrueFit Technology and Flex
Unitron receives feedback from audiologists, hearing aid wearers, and product experts after extensive field trials and in-clinic validations, before designing and putting a product on the market. As a part of their program to provide better fitting, flexible solutions, Unitron offers a trial program and fitting software to determine the best, personalized solutions for hearing. These are TrueFit Technology and Flex.
Unitron TrueFit software was developed in collaboration with hearing healthcare professionals. Hearing aid wearers are given trial hearing aids to "test drive." During this test drive, the wearer's preferences are recorded with a program called Log It All, which provides clear insight into the wearer's actual listening experience. This allows hearing specialists to tailor hearing aids to their patients' specific needs, based on lifestyle and daily activities. Log It All provides clear data on the different hearing environments that a wearer encounters during the day.
Unitron's Flex gives wearers the opportunity to try different devices to find the best fit. TrueFit Software and Flex work simultaneously to provide best hearing aid fit for their users. According to surveys, 84% of Flex customers believe that the trial experience improves their own experience with hearing aids; 83% of Flex customers report an increase in the number of patients purchasing Unitron hearing aids; and 82% of Flex customers report that the trial period helps to fit higher technology levels to hearing needs.
Find a Hearing Aid Provider
It is important to remember that you are not alone in this process. If you are an important friend or family member in the life of a hearing impaired person, you can be that guide. Hearing loss has the potential to be an isolating experience. For people who have been living with hearing loss, finding the right solution is life-changing. Click below to find the right hearing care provider today.
Find a Provider