Rechargeable Hearing Aid Batteries
Smart Hearing Aid Technology and Energy Sources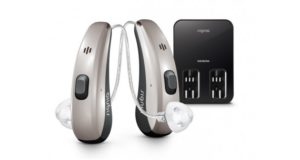 Hearing aids have revolutionized the way we hear the world around us. In the past decade, they have evolved into discreet, fast, and incredibly powerful devices – not unlike tiny computers we can wear in our ears! But unlike our laptops and smartphones which are fully rechargeable, hearing aids use very small batteries that aren't rechargeable. Until now. We've finally found a way to fulfill advanced power needs in a tiny rechargeable battery!
The Problem with Hearing Aid Batteries
Now, with the higher energy usage of wireless technology, zinc air batters last no longer than one to two days, on average.
The more advanced technology a hearing aid boasts, the more energy it inevitably uses. Most hearing aids operate in the 1 to 1.6 voltage (V) range, with the most common battery the zinc air.
Prior to new wireless features, zinc air hearing aid batteries could last anywhere between one to two weeks, which meant binaural hearing aid wearers used, on average, 100 zinc air batteries a year. Now, with the higher energy usage of wireless technology, zinc air batters last no longer than one to two days, on average. It is estimated that 150 billion zinc air hearing aid batteries are disposed of annually. This comes as a cost to both the hearing aid wearer and the environment.
Some hearing aid wearers may find they are spending up to $150 a year on hearing aid batteries alone. At the same time, with so many new advanced features, wearers may find there is less confidence in the lasting power of batteries. Instead of feeling confident that your hearing aids will work for you anywhere you go, you must remember to bring an extra set of batteries with you, just in case. If you lead an active lifestyle, or find yourself often in louder settings, the hearing aid processes more auditory information and drains more battery than normal, leaving you vulnerable if you do not have an extra set.
Consider the math: if you wear two hearing aids, you are replacing two batteries every few days or once a week. Even with rechargeable batteries, they still need to be replaced once a year. Annually, 150 billion zinc air batteries make their way to landfills. As they are not recyclable, these batteries become waste product which run the risk of seeping lead and acid into underground water supplies and become an environmental hazard.
Rechargeable Hearing Solutions
hearing aid wearers may go through their days with confidence, knowing they will not drain their batteries
For the past few decades, rechargeable hearing aids have been available, but were not commonly used. In recent years, rechargeable hearing solutions have undergone major improvements. In early incarnations of rechargeable hearing aids, recharging stations were difficult to operate and still, the battery life was not reliable. Nowadays, rechargeable battery technology has improved in terms of battery life as well as varietals of battery size.
This brings greater benefits to hearing aid wearers as well. As hearing loss is a common condition in older Americans, who may also experience difficulty with dexterity and arthritis, rechargeable hearing aids offer ease of use. Rather than struggling with the small components of the hearing aid to replace the tiny batteries, wearers simply remove their hearing aids, place them in the recharging station at night, and wake up to fully charged batteries in the morning.
Additionally, rechargeable hearing aids reduce the level of lead and acid that seeps into our water supply from disposed batteries. They are also more cost-effective. And, since rechargeable hearing aids are designed to keep their charge for a specific amount of time, hearing aid wearers may go through their days with confidence, knowing they will not drain their batteries.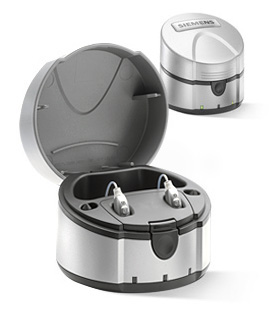 Siemens/Signia eCharger
From Sivantos Group, certain Siemens and Signia hearing aid models offer the option of rechargeable batteries powered with the eCharger. The eCharger is a chamber into which you insert your hearing aids to simultaneously charge your batteries and dehumidify your hearing aids to remove any moisture.
The eCharger is compatible with Siemens and Signia hearing aid models Pure (receiver-in-canal), Motion (behind-the-ear) and Carat (receiver-in-canal). Before going to bed, place your hearing aids into the eCharger and six hours later, they are fully powered up for use. Siemens and Signia rechargeable hearing aids require one pair of rechargeable batteries per year, saving you from weekly battery replacements.
Starkey V Fusion Rechargeable Battery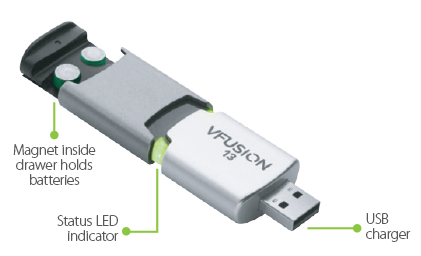 Starkey Hearing Technology offers the VFusion Rechargeable Battery System that recharges batteries via USB, for their non-wireless models. The VFusion device charges special batteries produced by Starkey, which have lasting power of 18+ hours. This longevity gives Starkey hearing aid wearers a level of confidence in their hearing aids as they make their way through the day.
The VFusion system is simple to use: simply place your hearing aid batteries into a USB thumb-drive, which holds two batteries. A magnetic surface holds the batteries as they charge, while the USB component makes it simple to charge your batteries with a device or USB-electric power charger. Though the VFusion costs $130 upfront, consider it an investment for the year: hearing aid wearers only need to purchase two pairs of rechargeable VFusion batteries annually – as opposed to the large number with traditional zinc air batteries.
Phonak B-R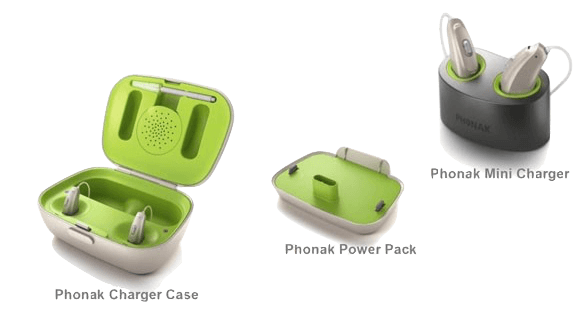 Phonak's Audeo B-R is the company's first hearing aid with a rechargeable battery system.
The Audeo B-R is a receiver-in-canal hearing aid that is powered by a new lithium-ion rechargeable battery. The Audeo B-R is the first hearing aid with a built-in lithium-ion rechargeable battery that provides 24 hours of hearing.
Phonak B-R wearers only need to charge their batteries for 30 minutes, which gives 6 hours of immediate use. A longer charging time yields longer battery life.
Signia Pure Charge&Go Nx
Enjoying the great outdoors with friends, conducting long business meetings, listening to your favorite podcast or music — no matter how much activity and work you like to pack into your day, Signia's longer-lasting Pure® Charge&Go keeps going with you. True to its name, Pure Charge&Go can be fully charged while you sleep so that it's always ready to go when you are.
zPower Rechargeable Battery System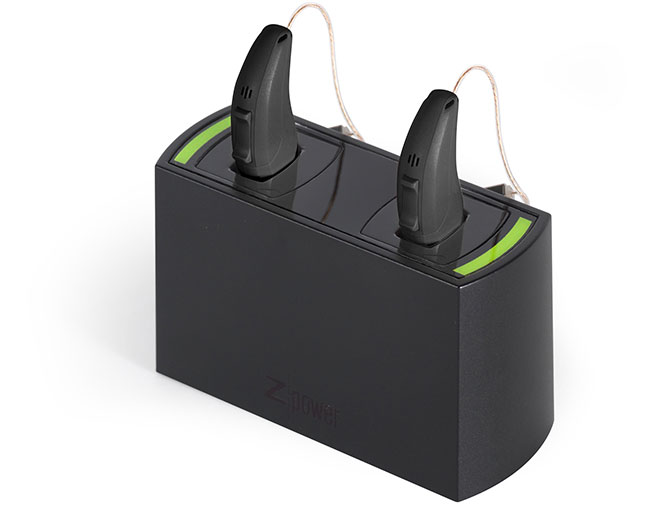 Like the Siemens battery, zPower provides long lasting power after an overnight charge. zPower batteries are fully charged after just 2-4 hours, last for over 24 hours, and only need to be replaced once per year! These batteries can be charged hundreds of times without weakening or losing energy storage. Each zPower battery replaces about 100 traditional batteries, and is fully recyclable.Using a revolutionary silver-zinc battery, zPower provides 40% more capacity than traditional lithium-ion batteries, and guarantees long-lasting power to even the most advanced and power-hungry models. zPower is an all American company, based in Camarillo, California, providing dependability and local product support.
What makes zPower special is its compatibility with many different hearing aid brands. These include Phonak, Resound, Starkey, Siemens, Signia, Rexton, and Beltone. zPower provides batteries and a battery door that takes the place of the original battery and door, allowing for many traditional styles to be easily converted to rechargeable technology. This gives you a wide range of choice to find the hearing aid that suits your needs, all without worrying about the battery.
Find Hearing Aid Providers
It is important to remember that you are not alone in this process. If you are an important friend or family member in the life of a hearing impaired person, you can be that guide. Hearing loss has the potential to be an isolating experience. For people who have been living with hearing loss, finding the right solution is life-changing. Click below to find the right hearing care provider today.