Starkey Halo2 Hearing Aids
Starkey Halo
Made for iPhone
Halo, Starkey's newest Made for iPhone® hearing aids help you stay connected to the people and things you love most. With our easy-to-use TruLink™ Hearing Control app, Halo is engineered to work specifically with your iPhone, iPad®, iPod touch® and Apple Watch®. And with new processing power in Halo, you'll experience music in a whole new way with pure, refined sound quality.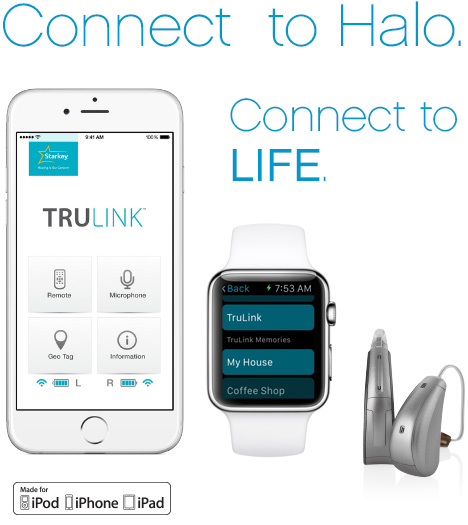 Truelink App + Halo, It's just better
Life is better with Halo™, the breakthrough hearing aid engineered to connect directly to your patient's iPhone®, iPad®, iPod touch®, and Apple Watch™ via our easy-to-use TruLink™ app. The ideal hearing solution for today's more mobile and plugged-in patient — Halo and TruLink deliver new standards of performance and personalization, while providing convenient control and effortless connectivity to the things they care about most.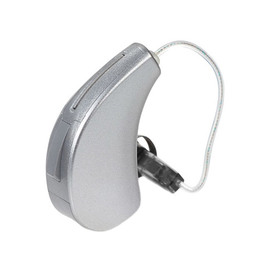 A MORE NATURAL LISTENING EXPERIENCE: Starkey's Binaural Spatial Mapping delivers maximum listening comfort for louder sounds while providing a more natural, overall sound.Voice iQ™² is a noise management and speech preservation system intended to let patients hear effectively in noise.

SUPERIOR AUDIBILITY IN NOISY ENVIRONMENTS: Thanks to Acuity Directionality™, our new multichannel adaptive directionality solution, speech protection is improved in difficult listening situations. Starkey's proprietary Speech ID detects speech even when it occurs behind the patient. The combination of these two innovative technologies results in consistent, high-fidelity sound that helps patients listen to speech and participate in conversations in even the noisiest environments. The system's Micro-Electronic Mechanical Systems (MEMs) microphones are the same as found in today's iPhone.

DISTORTION-FREE COMFORT IN LOUD SITUATIONS: Our ISO-Clear Compression delivers a more personalized listening experience by making soft speech sounds audible without affecting louder inputs. Loud sounds are discreetly managed while maintaining the quality of lower-level sounds.

SAY FAREWELL TO FEEDBACK: Starkey's best-in-class feedback cancellation system, PureWave Feedback Eliminator has the ability to manipulate how aggressively it performs, so feedback elimination can be personalized to the specific product and patient. It's designed to identify, classify and eliminate annoying whistling and buzzing in all environments, so your patients experience feedback-free listening.

LAUGHS AT WATER AND WAX: Halo features Starkey's proprietary moisture protection, HydraShield®2. When combined with Halos' unibody construction, this nano-coating delivers excellent protection from water, wax and oils.

JOIN THE CROWD WITH ACTIVE NOISE REDUCTION: Comfort Boost allows patients to aggressively reduce noise on-demand while optimizing sound quality in environments like noisy restaurants or crowded rooms.
Synergy for Halo2 Explained
Listening enjoyment once again
Today we want more than just the ability to hear in
functional settings — we want to enjoy listening in every setting.
Acuity Lifescape Analyzer makes it possible. Its seven sound
classes handle multiple environments simultaneously and
deliver the most sophisticated and accurate classification
and adaptation system ever
Clear audibility for speech in all situations

Acuity Voice runs in parallel with Acuity Lifescape Analyzer to
provide optimal audibility for speech. Its two-part algorithm uses
dynamic voice identification, coupled with a spectral noise control
that calculates appropriate gain on a per channel basis, for
unprecedented sound quality, ease of listening, and intelligibility
of speech in noise.
Accurate directional detection
Intelligent and personalized, Acuity Directionality continually
adapts in all channels, prioritizing conversations with up to
6dB of speech enhancement, so patients can better hear
and participate in conversations from all directions.
A more natural listening experience
When Halo 2 hearing aids are connected to an Apple device,
Acuity Binaural Imaging offers patients a more natural
ear-to-ear experience. Thanks to collaborative decision
making, speech audibility can be preserved while
simultaneously maintaining loudness comfort.
Music the way it was meant to be heard
With its revolutionary new platform and OS, Halo 2 is designed
to enhance the way patients listen to music. Developed at our
research center in Berkeley, California, its unique prescription
focuses on music enjoyment, makes soft music sounds audible,
can be fit easily to accommodate each patient's subjective
hearing tastes, and adapts and improves music listening
sound quality automatically.
Effortless connections with streaming media
Halo 2 and TruLink offer carefree connectivity and
control. Wearers can stream any music or media played
on their iPhone directly to their hearing aids for a more
immersive and impressive listening experience.
Effortless adjustments with TruLink
The TruLink Hearing Control app for both Apple and
Android devices provides patients with Starkey SoundTM
and the control to adjust their volume and memories
right from their phone.
Reliable, hassle-free hearing aids
Surface Nanoshield coating repels both water and wax,
while the remote functionality of the iPhone lets patients
control and adjust their hearing aids more easily than ever.
Sign up for your 30-Day RISK-FREE Trial on Starkey Halo2 Hearing Aids
Try the latest in Starkey hearing technology from a local hearing healthcare provider.